Congratulation J'pura
The sorting hat From the famed Harry potter Series have been brought to life by a group of J'pura Uni Student and it has even been qualified as a Finalist for the International Best Robot Design Award!
Recently a team of undergraduates from the Robotics and Intelligence Systems (RIS) Laboratory at the Department of Computer Science, Faculty of Applied Sciences, and University of Sri Jayewardenepura brought the Harry Potters' Sorting Hat into life. This Hat, which was designed and developed by the undergraduates could not only read the mind and put the students into houses but also analyze the brain activity for various other medical and scientific purposes. As a result of the tremendous cause, the team has been selected as a Global Finalist at the Eleventh – International Conference on Social Robotics 2019 – Robot Design competition and will be representing Sri Lanka on the 26th of November in Madrid, Spain. Apart from the above, the project was also exhibited at the Innovate Sri Lanka 2019 exhibition which was held at the Bandaranaike Memorial International Conference Hall, organized by the Innovation, Invention and Venture Creation Council (IIVCC) of the University of Sri Jayewardenepura and the project became a centre of attention flooding with crowd to witness and try out the Sorting Hat for themselves.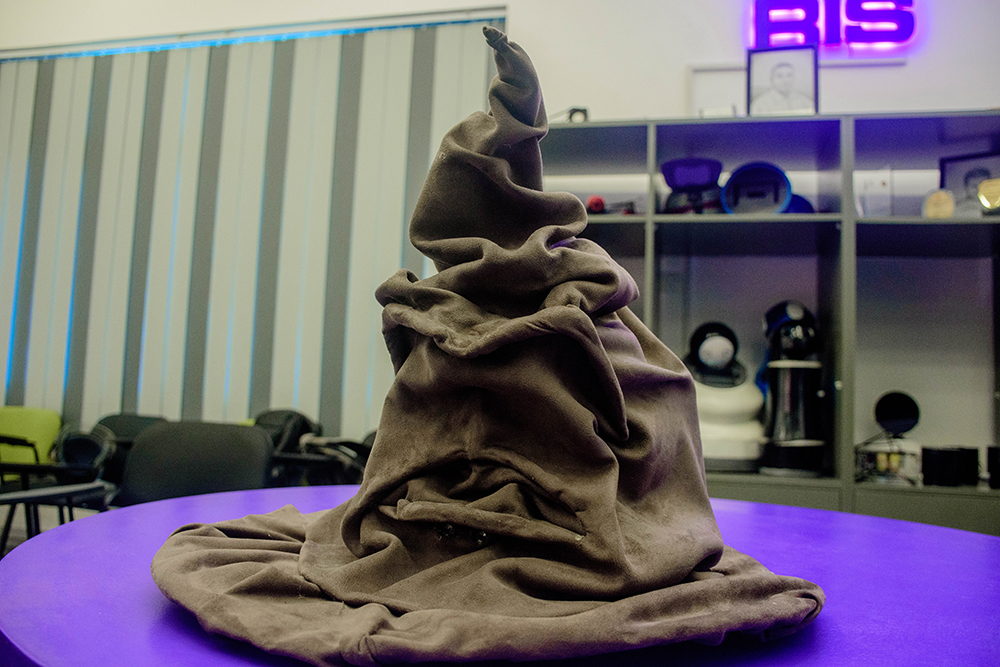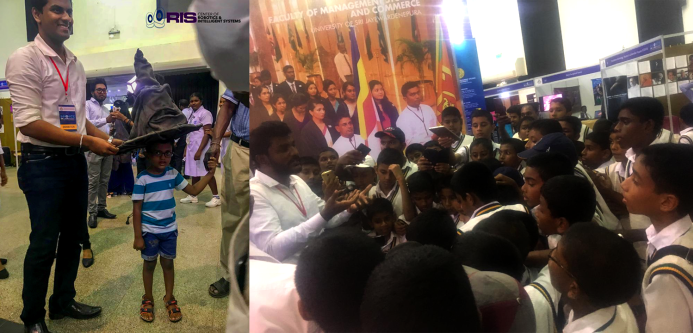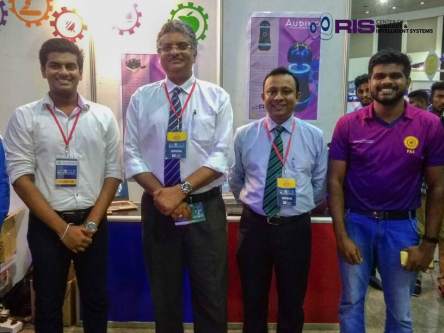 Right: Adhisha Gammanpila and Asela Wijesinghe explaining the Hat to the crowd at the Innovate Sri Lanka exhibition, Left: Adhisha Gammanpila along with the Vice Chancellor, Prof. Sampath Amaratunge, Prof. Shirantha Heenkenda and research assistant at RIS Mr. Udaka Manawadu while visiting to witness the Department stall and the exhibits including the Harry Potters' Sorting Hat.
With the rapid development of technology in fields such as  Artificial Intelligence, Machine Learning, high power computational systems and etc, the field of Social Robotics is one of the domains which brings the previously mentioned technological areas together to build human-friendly and human interactive robots to make the lives of the normal person easy. The International Conference on Social Robotics is considered as one of the most iconic conferences held annually to showcase such new findings, developments in research areas and to provide a stage to compete for the best social robot design for the year.
Annually the top-notch Universities around the globe such as Massachusetts Institute of Technology (MIT), Stanford University, Harvard University and many more participates for the title for the "Best Robot Design Award". With many privileges to mention, this year the team from the University of Sri Jayewardenepura has been selected as a global finalist to compete with the above mentioned top-notch Universities to win and bring back the title of "Best Robot Design Award" to Sri Lanka.